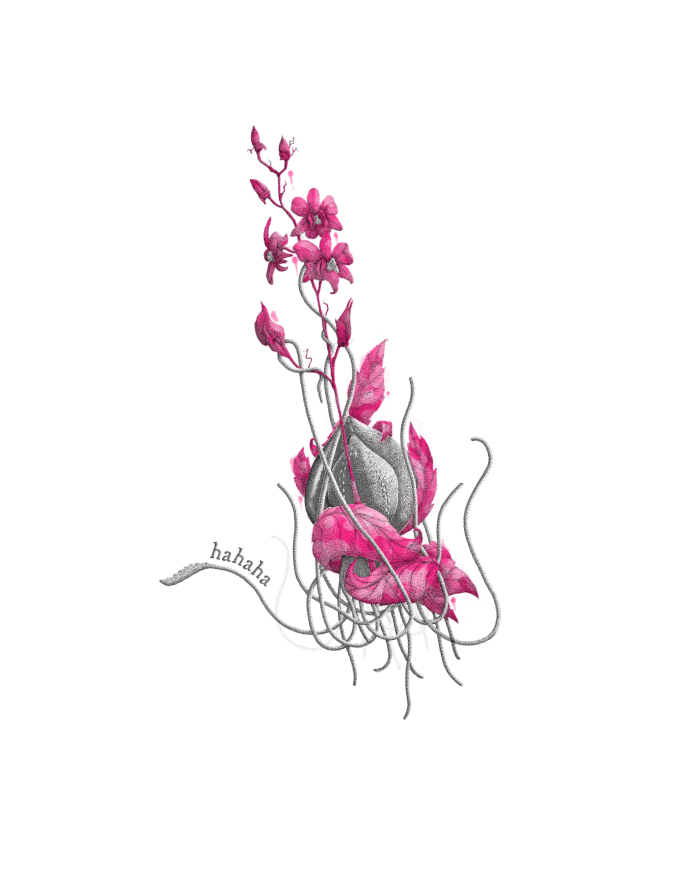 Pranee's Picks
When someone mentions Thai food, what springs to mind? A luscious, spicy Thai Green Curry bobbing with prawns or veggie goodies? Or perhaps it's a deeply comforting bowl of Pad Thai noodles with a light sprinkling of crushed peanuts? If you're a regular 'Giggler', a side of Salt & Pepper Squid and a hearty serving of Sticky Chicken might be your favourite feast but the question is, how often do you venture away from your tried and tested favourites to explore new and unfamiliar dishes?  
If you've ever opened a Giggling Squid menu and been simultaneously thrilled and daunted by the choice of dishes, we get it – we're all creatures of habit and we know what we love and love what we know…so in an effort to elevate your Thai dining experience with undiscovered delights we're introducing our new Pranee's Picks series.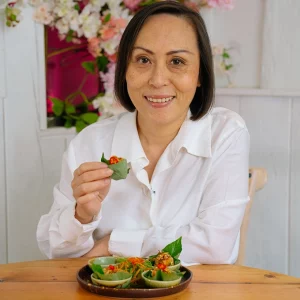 Discover Underrated Gems
In each of our highlights, our founder Pranee will select an underrated gem of a dish from our menu to inspire you to explore and expand your Thai faves! Starting with starters (of course), we're shining a light on four fabulous and famously overlooked smaller dishes.
There's One Bite Salmon – a dish that defied naming because words can't quite capture the glorious taste-explosion that these single-bite morsels deliver.
Samui Zingy Prawns are another personal favourite of Pranee's – a platter of fresh prawns drizzled in a feisty sauce flavoured with lemongrass, lime leaves and chilli – perfect for summer days.
Then there's our Crispy Slow Cooked Beef, a fairly new addition to the menu – tender morsels of beef seared to crispy-edged perfection and brimming with flavour.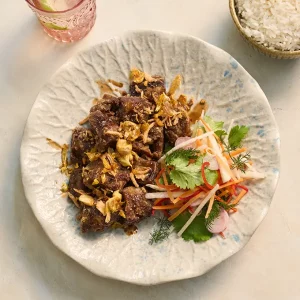 Grilled Squid & Crisped Thai Garlic is a culinary celebration of simplicity itself – fresh, delicately sweet squid, accompanied by fried garlic, simply delicious.
Finally, a smaller dish that Pranee is keen to highlight, is found in our Sides To Share section – meet the flavoursome Tamarind Mushrooms & Greens, a vegan salad brimming with juicy wild mushrooms, gem lettuce, cucumber, mint, Thai shallots and a rich Tamarind dressing – an underrated delight we urge you to try!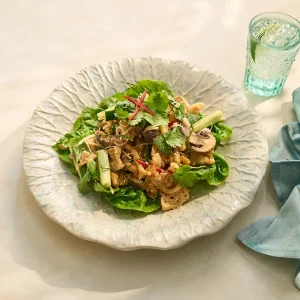 The Big Event – Mains!
It was tricky to narrow down our main dishes to a select few for Pranee' Picks as there's so much variety on offer including some more unusual proteins for Thai food such our moreish Roasted Pork Hock with Roti and Rising Star Red Duck Curry – roast duck and red curry make a delightful match and is a favourite of Andy's (Pranee's husband and co-founder).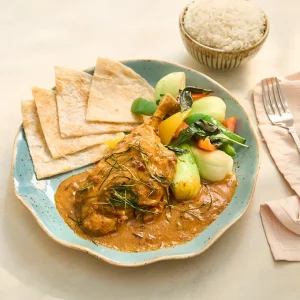 We shared the Rising Star Red Duck Curry recipe in our Giggling Squid cookbook so if you fancy re-creating it at home we urge you to give it a go.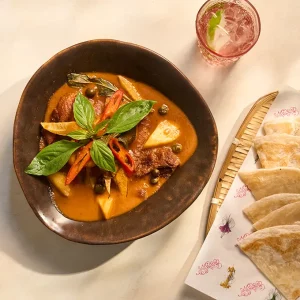 Pranee was also keen to feature Pad Kee Mao, a noodle dish that she grew up with and is very popular in Thailand. It translates as 'Drunken Noodles' – some say because the spicy dish makes you drink more to quench the fire, some say it's because Pad Kee Mao is an excellent hangover dish but either way, it's a noodle dish bursting with feisty flavour.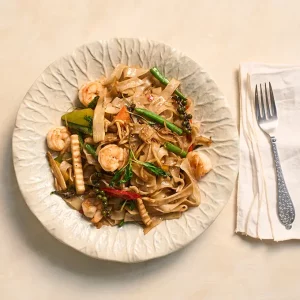 Seriously Good Seafood
Thailand's waters team with fish and seafood and feature in much of the cuisine so we had to include some fabulous but undiscovered delights on our menu inspired by ingredients from the water.
Thai Garlic Hake is a pescatarian treat. Hake is a mild-flavoured white fish that carries the dish's bold flavours and greens beautifully with our flavoursome house stir fry sauce, sliced krachai (in the same family as ginger), crispy turmeric-fried garlic and onions, sweetheart cabbage and fine green beans.
For a real seafood treat, Soft Shell Pranee Prawns packs a flavour punch and Honey-Crisp Seafood is a true seafood lover's treat, crammed with mussels, garlic-marinated prawns, squid and hake.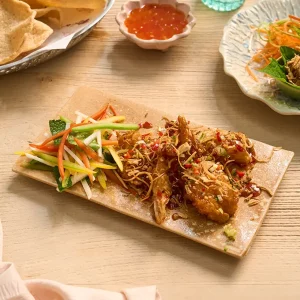 You can find our Pranee's Picks on TikTok and Instagram – we hope you discover a new Thai favourite!