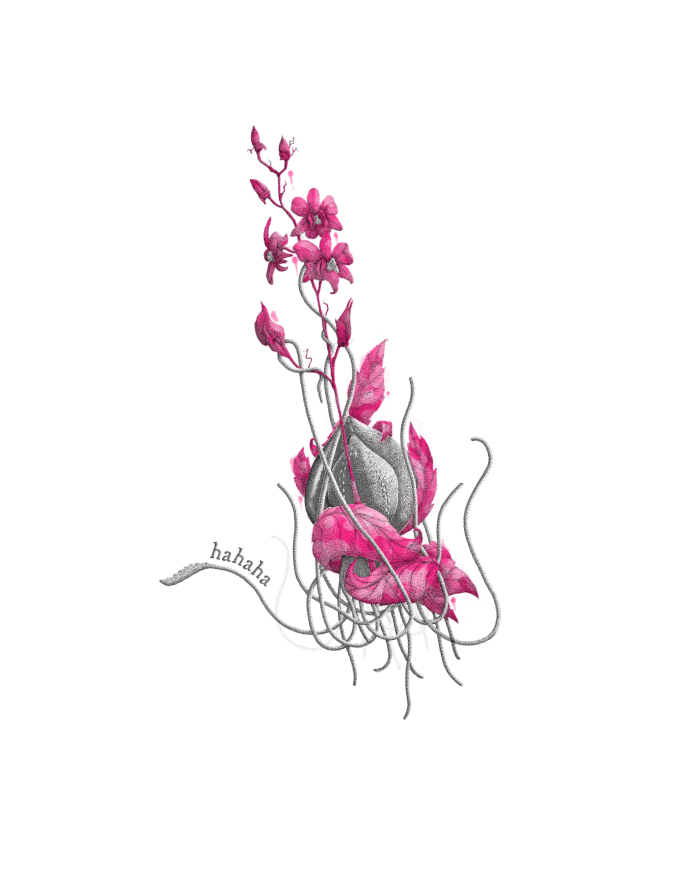 Celebrating

Giggling Squid's

inspirational women 
We're celebrating International Women's Day by shining a light on the many inspiring women leading by example across Giggling Squid. Whilst it's true that the hospitality industry remains a small pond full of male fish, we're trying to do our bit to address the imbalance.
A woman's place is in the kitchen, they used to say? We say, Now that's something worth fighting for! Humour aside (we do like to work in a giggle where possible…), we're proud of the fact that approximately 35% of our kitchen teams across the estate are made up of women and a high proportion of our restaurants are run by women in managerial positions.
We've even got an all-women kitchen team at our Chelmsford site and of course, Giggling Squid was dreamt into life by an inspirational woman, our founder Pranee Laurillard.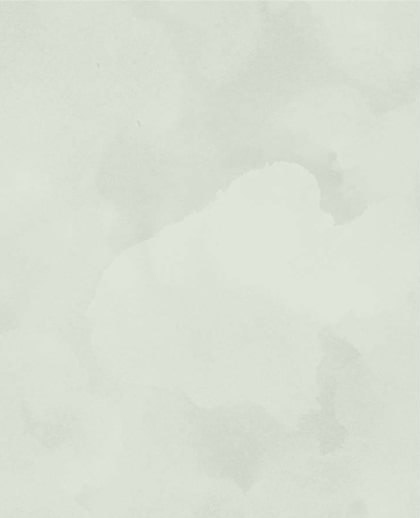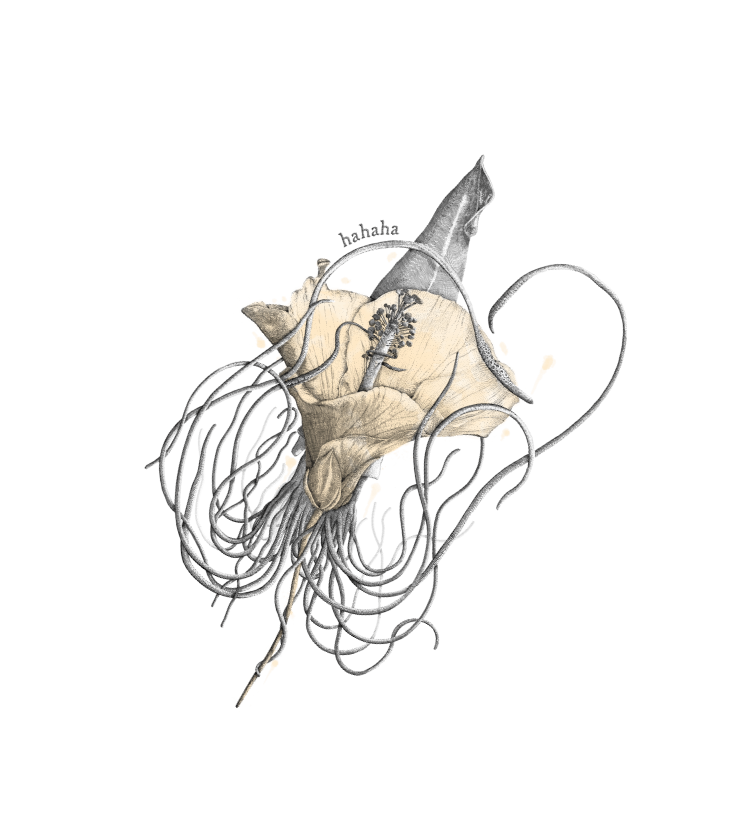 My mum is the person who inspired me the most in life. She taught me that if you are kind to everyone and you work hard at whatever you do then you will be repaid with happiness.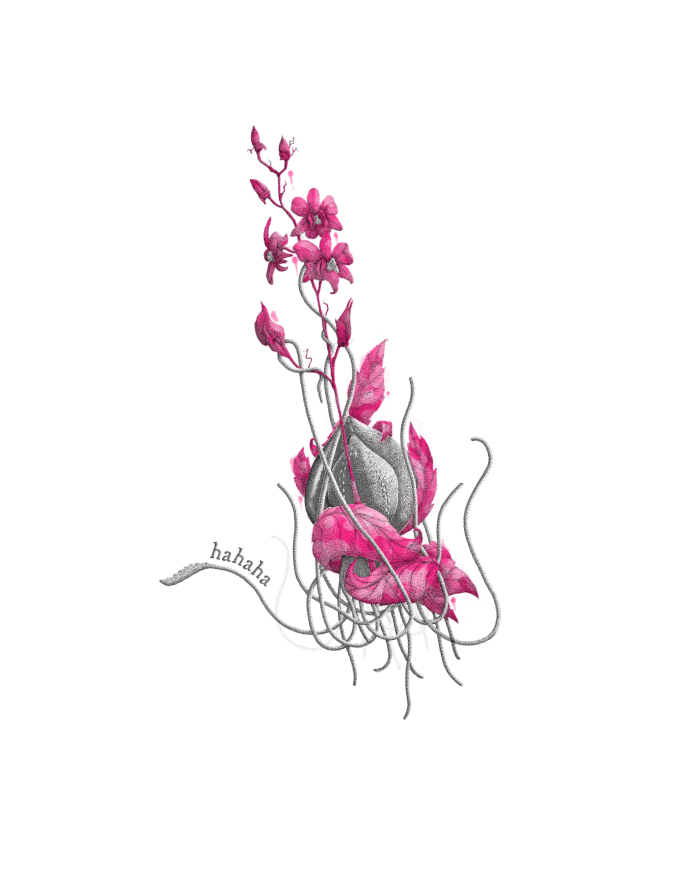 In a recent report on women in hospitality – 'How to unlock potential and create a talented pipeline of senior women leaders' by Jackie Moody McNamara and John Higgins – one of the critical success factors identified in achieving gender equality was the importance of female role models. Seeing a woman forging ahead with her career and achieving success, especially in a male dominated industry encourages a sense of possibility and fuels personal motivation. We took the opportunity to chat to Pranee and a couple of our Head Chefs to get an insight into their perspective and experiences. For Pranee the story of a fellow female entrepreneur resonated with her own personal journey.  
'I came across a movie about a mum with young kids called Joy Mangano who truly embodied the entrepreneurial spirit, inventing the Miracle Mop which successfully sold across the United States. The movie touched my heart and inspired me to research her life and discover what made her so successful. Not only is hers an incredible success story, but she set up an organisation to help other woman make their dreams a reality. This truly inspired me.'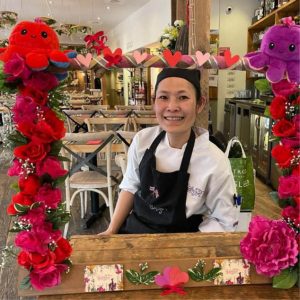 The significance of a strong female role model was echoed when we spoke to several of our women Head Chefs to discover who they looked up to. Farnham Giggling Squid Head Chef Lek Orrawan says, 
 'The woman who has definitely inspired me to achieve my career was my mother. She taught me many lessons through the way that she lived her life. She taught me to stand up for what I believed in and for what was right and be strong especially in tough times. She taught me to work hard, to do my best and be patient until I reach my goal and not to be scared to put myself out of my comfort zone to experience new things.'
Wimbledon Giggling Squid Head Chef Sirpai Addison was also inspired by the role model her mother provided and says, 
'My mum is the person who inspired me the most in life. She taught me that if you are kind to everyone and you work hard at whatever you do then you will be repaid with happiness.' 
What came to light as we looked into the personal career journeys of our senior women is that there was a huge variety in the routes they took to success. Head Chef Lek's career followed a traditional route, similar to many of her male colleagues,  
'I graduated from Bangkok's Thai Culinary College in 1990 and started my career as a Commis Chef at the Landmark Hotel in Bangkok. Two years later, I got a promotion to become a Chef de Partie, then Sous Chef and Head Chef respectively. I worked in the Landmark Hotel for 9 years and gained so much knowledge and skill in Thai and international cuisine. I also had great opportunities to visit Japan, India and the UK to represent and exchange knowledge of Thai culinary skills such as fruit carving. When I first visited the UK to represent Thai cooking, I instantly fell in love with the environment, people, cultures and of course the international cuisine that I always wanted to learn more about. Now, I have been living in the UK for almost 22 years and I feel very blessed to have cooked so many different types of cuisines and to be part of the Giggling Squid family.'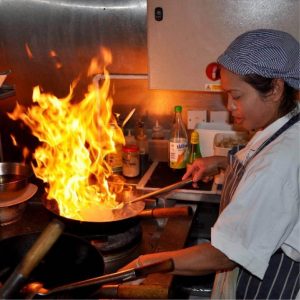 Head Chef Sirpai achieved her position as Head Chef through a different route, as she explains,  'I came from Thailand when l was 21 years old  and stayed home with my children until l was 26 before starting part time in a local Thai restaurant. l worked in both front of house as a waitress and back of house in the kitchen. When l went full time l chose the kitchen as my preferred career. I spent the next three years working my way up through the kitchen to become Head Chef. After working at several restaurants in the roll of Head Chef l was fortunate enough to continue my adventure by joining the Giggling team.' 
Despite the variety of paths taken to success, a shared theme became evident when speaking to Pranee, Lek and Sirpai – instead of tackling the gender imbalance by adopting more typically male attributes, they drove their success by playing to attributes more commonly regarded as female. As Pranee says, 'I believe to bring out the most productive performance, you don't have to be tough but to demonstrate that interpersonal touch that seems to be natural aspect of many women.'